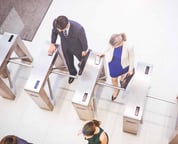 The last 12 months of Covid-19 have shone a spotlight on the need for organisations to move their workplace access control systems and processes into the digital age.
Frankly, old-skool paper visitor logbooks and manual, multi-touch registration processes have, over the last year, been rendered no-longer fit for purpose.
It's all about safety, security and privacy
The fact is, the moment your visitors step foot inside your offices or building, their safety, security and privacy become your responsibility. And the focus on each of those factors has become sharper than ever.
So looking ahead to the return to workplaces in 2021, how can access control help build safer, more secure and trusted workplaces?
And how can worskspace managers use access controls as one of the pillars of an effective security and risk mitigation strategy?
Digital visitor management systems
A digital visitor management system (VMS) supports access control efforts by combining health & safety and privacy protections in the following ways:


Enabling contactless visitor sign-in and flow management
Accurately tracking and collecting visitor and staff data to assist in real-time reporting and identifying areas of operational improvement.
Preventing access to unauthorized guests by requiring pre-registration and authentication steps upon arrival.
Enabling Covid questionnaire screening of visitors easily, with yes/no questions
Facilitating printable ID badges to quickly identify visitors and report unusual behaviour to security.
Ensuring GDPR compliance in the capturing and storage of visitor personal data
Contactless solutions
Since the lockdown and closure of offices and workspaces, visitor and staff expectations have inevitably changed.
Businesses are now expected to provide a touchless experience at each possible stage of the visitor journey – beginning with reception areas.
Sign-in processes involving paper logbooks that were initially replaced with iPads are now being further scrutinized to remove any remaining touchpoints.
Touchless visitor sign-in
Implementing the right VMS enables the adoption of contactless visitor sign-in, often with multiple options through the visitor journey:
Using a QR code displayed digitally or on paper, visitors and guests can easily scan and sign-in through the use of their mobile device.
Physical sign-in touchpoints are eliminated as guests are prompted to enter any personal details, health information, and sign digital forms from their own smartphones.
After sign-in completion, the data is passed to a manager or team who can screen each visitor and monitor visitor flow, manage workspace capacity and social distancing measures.
Facial Recognition technology can speed this process further by automatically checking-in previous visitors.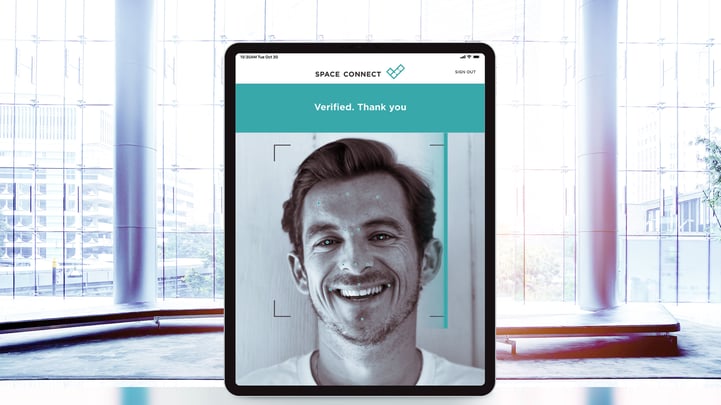 Prioritising visitor data privacy
Under the strict rules of the GDPR, businesses need to prioritise secure data measures, specifically around:
Consent
Clarity
Relevancy
Sensitivity
Transparency
Storage

Even companies that previously didn't store visitor data are now retaining copies of visitor health screenings as part of larger contact tracing efforts.
To successfully manage visitor data while prioritising data security, many businesses are turning to VMS, enabling workplace managers to prioritise visitor data security and GDPR compliance, through: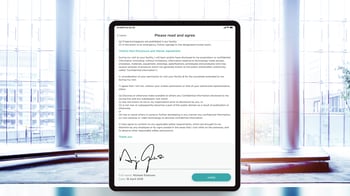 1. Consent and clarity
Using the 'agreement' feature of a digital visitor management system (VMS) enables you to provide your office visitors with both clarity and transparency around the use of their data.
2. Relevancy and sensitivity
A VMS enables you to fully customise both your data collection requirements and your data agreement, based on the category of visitor
3. Transparency and storage
A VMS can enable you to store visitor data password protected, encrypted and backed-up, with automatic lifespan storage limits and easy subject access and removal.
For more information on visitor management solutions, check out the Space Connect Visitor Management module.