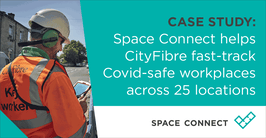 Check out my video below, introducing the remarkable case study of how Space Connect rolled out Covid-secure desk management across 20+ sites and 400+ desks in less than 3 weeks!
Then download the case study right here, to find out how we did it.
For organisations planning to re-open offices in the coming months, Covid-securely, this speed of workspace tech deployment is a game-changer.


See more desk booking advice and guidance on our desk bookings systems blog.