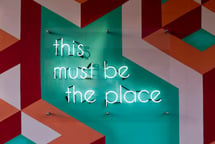 Employees want workspace management solutions. Don't just take my word for it.
Gartner are predicting by 2022, 60% of workers will prioritize a wellness-equipped smart office over a remote office.
This blog explores many of the motivations behind the demand from employees for differently managed workspaces, the benefits employees can reap from these changes, and in turn how employers can grasp this opportunity to realise huge business benefits.
Retailtainment… officetainment?
The shift in retail to retailtainment, whereby bricks and mortar stores differentiated themselves through AV technology, gamification and even aromas, to attract and keep customers instore for longer, is now hitting the office.
Want to attract top talent? Make the office experience exceptional.
Don't force people to the office 5-days a week. Instead make it a place that employees want to go.
Create a physical space that compliments your company culture and watch as you start to attract the right candidates and retain the right employees.
Like the Sir Richard Branson quote 'Train people well enough so they can leave, treat them well enough so they don't want to'.
The same can be said about the physical workspace.
87% of workers would like their current employer to offer healthier workspace benefits, with options ranging from wellness rooms, company fitness benefits, sit-stands, healthy lunch options and ergonomic seating. (Fellowes, 2019)
Workspace management solutions help companies promote the various resources available to employees, while giving employees the control over where and what they engage with.
Of course, not every employer will be able to build a gym. But the point remains – invest in your physical space and how people can engage with it, and employees will likely want to come to the office. It all comes down to improving the employee experience.
Employee wellbeing
As work from home has become established as the norm over the last 18-months, it's been a challenge for many companies to maintain employee wellbeing and togetherness.
Employees now retuning to the office will be looking for cues from companies that tell them they are mitigating risk to them and not just the balance sheet.
"If I come back to the office, is it safe to do so?" And "If I go back will it simply be a steppingstone the old 5-days a week in the office routine once more?"
Transparency and communication
A space booking solution empowers employees to work where they want and communicate this in a simple way to their colleagues. "Where is Patrick today?" "Let me check, oh he's on the first floor of the London office today."
Gone are the days of employees tentatively asking "Can I work from home on Friday, I have the boiler repair happening". Now it's quite the opposite. It's on the employer to find a reason why an employee shouldn't work from home.
Putting rhetoric to one side, and instead focusing on the pragmatic benefits of workspace management on employee wellbeing, we can see the upside.
On a day-to-day basis, workspace management solutions help employees take back control they had while working from home, by independently finding available resources - desks, rooms, and even colleagues.
Investment in this technology by employers demonstrates their commitment to hybrid working and their safeguarding of employees' health and wellbeing.
Hybrid working isn't going away
For many employees, the time and cost savings arising from home working will be considered a benefit and something they won't want to lose. What's more, in most cases they can demonstrate the same levels of productivity and many can actually demonstrate an increase.
Which begs the question, why go back to the office at all?
While the answer is maybe more obvious to an employer, for an employee it often comes down to one primary reason – community.

People are social creatures by nature. Having a chance to meet face-to-face and collaborate with others can't be underestimated.

While digital collaboration technologies have helped bridge the gap, now that offices are reopening it is clear that the real benefit of these spaces will be in bringing people together.

Our physical workspaces and how we manage these spaces will need to change as a result. IT leaders have an opportunity to help make workplaces work better for the employer and more importantly the employee.
Image credits: https://unsplash.com/@timmossholder