The benefits, options, models and criteria for defining and delivering the best-fit hybrid-working, Covid-secure office re-opening.
As lockdown restrictions continue to ease, workplace managers are actively planning for how their employees will return to the office.
Reopening planning encompasses a wide range of considerations:
The remote working/office working model to be adopted
The criteria influencing your choice of model
The key benefits to an organisation
The key success factors for making the model work
The technology required to deliver success
The role of Covid-security and post-Covid future-proofing
In the first of this two-part blog, I talk with Space Connect founder and MD, Matt Pope and other key members of the team to explore the first 3 of these 6 areas, and explain how to identify and deliver the right workplace reopening model.
How's the wind blowing?
"There's a lot of buzz in the media right now around workplace reopening" says Matt Pope. "Large organisations such as HSBC are talking about a 40% reduction in their global real estate footprint through homeworking."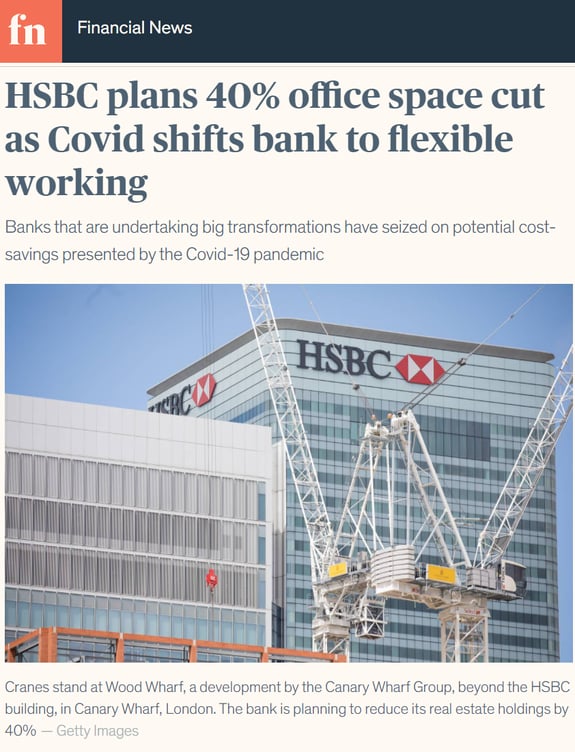 "BP too are pivoting to a 60:40 hybrid working model. While Goldman Sachs are predicting a return to the pre-lockdown 'office first' model. This really demonstrates the range of approaches being considered".
The last 12 months have moved the dial exponentially towards a greater focus on flexible and hybrid working, not least because it offers advantages and opportunities not just for employees, but for organisations too.
The key benefits to an organisation of going hybrid
Covid security: Workspace capacity and social distancing management are integral to the benefits of a flexible/hybrid working model
Employee Health and wellbeing: Reduced infection and stress-related sickness and absenteeism
Increased employee productivity and satisfaction: Employees fixing their work-life balance, and working to their strengths in the way that best fits them, are happier and more productive
Increased staff loyalty and retention
Greater opportunities for talent hiring and acquisition: Location and commute distance become far less restrictive on the talent pool
Greater opportunities for talent hiring and acquisition: Increased accessibility for those with disability
Reduced workplace overheads
Flexible and hybrid working – the range of options for workspace leaders
"I think what we're starting to see now is not just global corporates, but everyday companies deciding that there is a way to make a hybrid approach really work." Says Matt.
"The lockdown has accelerated that momentum for change. Now is the time to implement it".
Let's take a look at the range of options workspace leaders have to consider for office reopening.
Office-first. Here the primary default is working in the office (WFO), while flexibility and exceptions can be made for working from home.
Remote-first. Here the primary default is home working (WFH). Exceptions are prescriptive around who is expected or permitted to work in the office, and when.
Hybrid. Here, different teams, individuals or job roles will work from different locations, in a more flexible way, based on a range of criteria and on business/individual needs.
Different hybrid/flexible working approaches
On-demand
With this approach, employees can, on any day, choose the work location that best suits them. The approach is entirely flexible and gives employees access to the office as required, within Covid social distancing management parameters.
Working week split
In this case, employees are prescribed the number of days per week they will be expected to work from home and from the office. E.G. 3 days from home, 2 days in the office.
This split may be different for different departments: For example, one team in the office on Mondays and Wednesdays, another on Tuesdays and Thursdays. Marketing team WFH 4 days a week, Sales team WFH just 1 day a week.
Shifts
This is a more traditional split of working arrangements whereby groups of employees are in the office at different times. For example, one team may all be in the office for one week, and another all in the office the following week. Alternatively, shifts may offer flexible working options, with employees choosing their hours and start/finish times.
Which criteria influence the choice of hybrid working model?
Each of the different types of hybrid working models to consider will fit different industries and organisations, depending on a range of criteria. Let's take a look at the key influencing factors to consider:
Office capacity and Covid security
For the immediate future, understanding the relationship between desk, meeting space and floor capacity, and social distancing requirements for Covid security, is a crucial influencing factor.
Job roles and functions
Where some roles and teams will inherently require a significant degree of face-to-face contact and interaction, others can work more readily with an individual focus and with less need for collaboration or issue resolution.
Seniority and tenure
Training and development needs will impact the choice of hybrid model. Where new recruits, trainees, and junior staff members with high training and development needs are a significant proportion of the workforce, the model will change.
Individual personalities
The personality profile of a person, team or workforce is hugely influential. Some individuals will simply be more suited, personality-wise, to working remotely. While others will thrive in the office environment. Some will flourish with flexibility; others will crave routine.
Leadership
Where the leadership works will influence the workplace model.
Access to paper files and physical equipment
Some businesses, teams or individuals may require physical access to office equipment and assets that simply cannot be delivered digitally or remotely.
Home facilities
The choice of model must consider the access that a business's workforce has to facilities for working from home. A predominantly graduate workforce for example, may simply not have access to the home-office environment needed for a particular hybrid model.
Workspace optimisation technology
Managing any degree of flexible working requires technology – software and in some cases, hardware. Desk booking, meeting space booking, Covid-secure workspace automation, are all tech constraints and key influencing factors on the best hybrid approach for a business.
Coming in part two, next week...
In part two of this blog next week, Patrick Graff, Space Connect Channel Partner Manager, explores the key ways to make your choice of hybrid model work in practice.
Image credit: Photo by Good Faces on Unsplash