It's time for companies to make a choice on how (or whether) to return to the office this summer.
While CFOs may be excited about the prospect of their currently idol office space no longer being underutilised, their companies embark on a new challenge: how do they bring people back to the office.
Employee safety must be central to decision making
Strong leadership and two-way communication between employees and leadership is as important as the technology that enables this new way of working.
Any company's post lockdown plan is equally about the employees' welfare as it is about business recovery. The two are intertwined.
Whether you decide to invest in Perspex screens between workstations, software or hardware solutions for space booking, or devices for touchless visitor management – it is mitigating risks to your employees' wellbeing that should be the primary driver.
2, 3 or 5 days a week in the office?
At this stage it would be fair to assume that few companies will choose to revert entirely to the pre-pandemic five-days-a-week in the office.
Google CEO Sundar Pichai declared they will move to a hybrid work week where most Googlers spend approximately three days in the office and two days wherever they work best. Office time will now be focused almost entirely on collaboration.

The next important point was location, Googlers will have choice about which office they go back to.
Accountancy giant KPMG went a step further, allowing its 16,000 staff to leave early one day a week as part of a move towards more flexible working after lockdown.
According to the BBC "staff will work at KPMG offices four days each fortnight, with the rest of the time at home or client sites. Staff will also get an extra two-and-a-half-hours off per week in the summer to promote wellbeing if they complete their normal 35 hours of work. "It's another example of big firms overhauling home-office life.
That said, flexible working is not for every business. The well documented account of David Solomon of Goldman Sachs', who's view of hybrid working as "an aberration", will see its UK employees return to the office full time later this month.
Over the next few months as more employers announce their plans, I would expect the picture to become clearer.
Technology will play an even greater role in the future of work
There is no denying technology is increasingly playing a greater role in the workplace. Whether an employee is working at home or in the office, they expect a single consistent experience – with access to resources and tools to collaborate with other team members.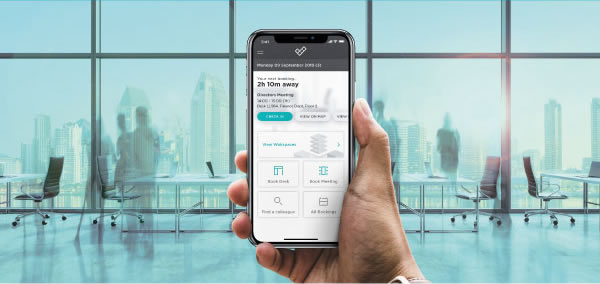 For business leaders, space utilisation is a metric under the microscope. How many employees are back in the office? Which desks and rooms are being used? How many visitors are coming through the door? All these questions can be reported on and measured with the right tech. The big decisions about office layout and size of the office space can then be made based on real-time data.
To see how Space Connect's workspace solution can help you plan for a safe return to the office, get in touch.