How to make it all work
I'm Patrick Graff, and in this second part of our 2-part blog exploring hybrid working models, I'll take a deeper dive into:
The key factors for making the right choice of hybrid model a success
The technology required to deliver success
The role of Covid-security and post-Covid future-proofing
(You can read part one of the blog right here).
A hybrid workplace model has potential pitfalls as well as tangible advantages, right now and into the long-term.
True hybrid working models can benefit businesses of all sizes. Post-Covid, data-driven workspace strategies, based on detailed space usage analysis and reporting, will take the guesswork out of office utilisation, and enable businesses to focus on space optimisation.
In the shorter term, once the best-fit hybrid working model has been identified, there are some quick win success tactics that need to be focused on to ensure the pitfalls are avoided or minimised.
Let's take an at-a-glance look at some of the pitfalls and success tactics:
Remote working enablement
For workplace reopening and a hybrid model, be very clear about what things worked and didn't work so well for employees in lockdown-enforced home-working.
For example:
Consider ways to reduce the 'always on' work culture, through asynchronous communication. In this case, employees are not expected to respond to an email or message immediately. An end-of day or 24 hour update is fine.
Define and enable home workstation assessments and ensure WFH staff have the necessary support in terms of workstation equipment.
Manage in-group and out-group dynamics
In a hybrid model there is a risk that a 2-tier workforce can develop, split between those mostly in the office (in-group) and those most working from home (out-group).
Focus on tactics to anticipate and mitigate this potential split, for example:
Provide managers with training in identifying inclusion/group biases, before they creep in.
Formally reward results, not attendance.
Ensure remote employee visibility, e.g. if members of a team are to remotely join a meeting, then flip the meeting so that all members are remotely attending.
Prioritize online communications over face-to-face, where appropriate
Create distinct but equal employee benefits for those working from home and those in the office.
Create and nurture a virtual workplace community for all staff – not just those WFH.
Communication of procedures
Explain clearly all in-office social distancing rules and expectations.

Explain all flexible / hybrid working procedures and expectations.

Provide a clear channel for employee feedback.
Future proofing
Whichever hybrid model is chosen and enabled, the dynamic times we live in mean flexibility for future-proofing is key.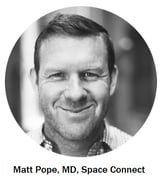 "I think when we consider what the future looks like, organisations need to think about both the post-lockdown short term solutions they require, and their longer term needs" says Matt Pope, founder and MD of Space Connect.
"That means making sure your workplace model, your procedures, and your workspace technology all have flexibility built-in. The tech workspace managers choose needs to be easily configurable, so it can change and scale with future demands, without boxing them in, with minimum term contracts and fixed pricing".
The checklist
Here's our 23 point checklist of factors to consider for planning and delivering and winning hybrid workplace model:
Ts and Cs
Salary and rewards – consider location weighting, commute costs, WFH expenses.
Working from overseas – consider potential employment, immigration and tax implications.
WFH equipment – consider what employees need in their home-office environment to do their job.
Policy and procedures
Health and safety – at home as well as workplace.
Data protection and IT security - at home as well as workplace.
Inclusion and equitability
Consider the equal allocation of work and opportunity to those WFH and those WFO.
Workspace tech checklist – Covid security
Flexible desk management
Flag desks as unavailable, for social distancing.
Multi-option no-touch desk check-in / checkout.
Pre-screening questionnaires, by email and on check-in.
Manage desk cleaning + hygiene
Activate cleaning alerts following a desk checkout.
Mark a desk as 'clean' for use by other employees.
Alert desk users to sanitise desk as they checkout.
Limit room capacity and manage cleanliness
No touch meeting room check-in and check-out.
Dynamically change and limit room capacity.
Cleaning Alerts.
Clean Room Status – indicated on display panels and mobile app.
Automated, no-touch video conferencing.
Find a colleague, key contact or preferred free desk location
Location mapping and interactive floorplans.
Locate a colleague.
Tailor desk searches to match preferences.
Reporting of real-time data by floor, room, space and desk, for:
Desk/workspace occupancy history and contact tracing.
Space utilisation and capacity usage.
Room cleaning activities.


Discover more about how workspace optimisation tech can help you deliver a Covid-safe, hybrid-working workplace.