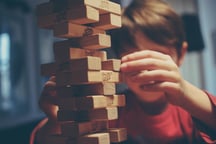 Workspace restacking is the reconfiguration of existing space, most commonly to create more collaborative spaces.
And right now, with the emergence and dominance of new hybrid working models, it has never been more relevant.
What does it look like?
Restacking can take different forms, from simple consolidation of unused workstations and desks, through to a complete reinvention of existing space.
A restack may involve varying levels of complexity and scale, from reconfiguring under-used sections of desk or meeting room space, through to radical changes to site floor plans.
Generally, restacking will take one of these 3 shapes:
1. A consolidation and rationalisation of space to reduce square footage, and condense floors or sites into fewer.
2. A major reconfiguration of existing space to reflect new working models, workflow, and drives for greater productivity, creativity and talent retention.
3. Cosmetic upgrades to an existing space to reflect corporate, brand and employee values.
Benefits of workspace restacking
Many organisations are locked into leases and cannot downsize in the short to mid term.
For others, the costs and disruption of relocation, or the impact on crucial company culture make staying put and re-inventing a preferable choice, not least because it comes with significant benefits:
Increased communication and greater efficiency among work groups – collaborative, groups spaces drive interaction and productivity.
Increased employee moral, in more conducive and positive environments.
Reduced operating expenses – rationalising the number of individual workstations reduces serving costs and overheads – as much as $2 per sq foot.
Support for new hybrid and flexible working models

10 considerations when planning the 'if' and 'how' of workspace restacking for your organisation

1. Company culture and business goals
You can use an office restack to redefine or reinforce company culture, and the goals you want to achieve from your physical workplace.
So, #1 step is to be very clear about what your business wants the culture and goals to be, and what a brand-savvy workplace experience will look like for your brand.


2. Employee needs and goals
Communicating with your employees – teams, locations, functions – to understand their workspace needs and wants is a crucial early-stage consideration.
Staff surveys, polls, interviews, town hall meetings and feedback loops can all help collect the best employee input and engagement for an employee-centric restack.
3. Workspace assets

Your workplace assets – both existing and wished-for – will impact on how your restack takes shape.
Typically these will include:
Fixed desks
Hot desks
Private offices
Formal meeting rooms
Formal meeting spaces
Collaboration/break out space - booth seating,
community tables, and a living-room style set-up
R&R & social spaces
Departments/teams/functions
Floors
Sites
Locations
4. Workspace resources
Alongside your workspace assets, are your related resources and facilities that will impact the workplace experience, and space usage and demand. These may be intrinsic to an asset – e.g., the location or capacity – or value-adds that can be bolted on, such as tech or lighting.



5. Workspace usage analytics
Workspace analytics and reporting software will help you understand the type of assets and resources that are in demand in your workplace, and the patterns of usage, align and map your desk stock to demand, and identify your restacking opportunities.
Consider which workspace management and reporting solution is right for your business. Each Space Connect module - Desk Booking, Meeting Room Booking and Visitor Management - includes real-time reporting and analytics, and comes complete with MS Power BI Reports – free of charge.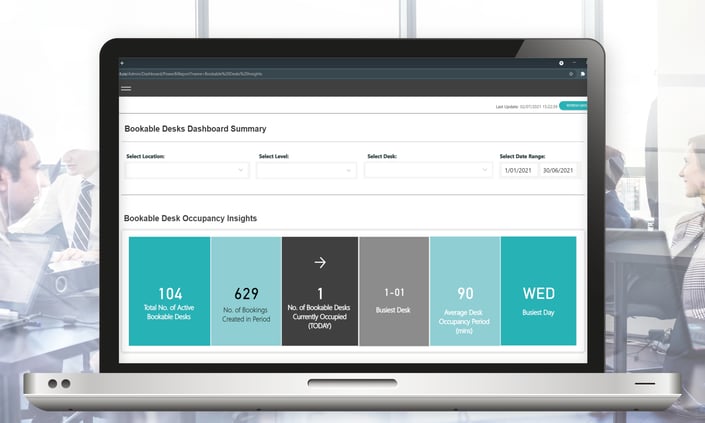 6. IT considerations
These need to be covered early in the planning process, with IT teams taking an active role in ensuring business continuity throughout all phases of restacking construction.
7. Logistics
Consider the use of swing spaces and tightly controlled desk booking and meeting space booking to manage the transition from old to new, restacked floorspace.
8. Change management tactics
Change, while often motivating and exciting, doesn't sit easily with everyone. Communicate the process, timeline, outcomes, reasoning, benefits, invite feedback and engagement to ensure maximum staff and stakeholder buy-in, and to effectively manage the change process.
9. Health & safety.
Restacking will involve some degree of construction, so health and safety planning must be front and centre of that process
10. CSR and orphaned furniture
Lets face it – there will be desks, chairs and all sorts that wont have a place in your restacked design. A plan for disposing of the old assets in a sustainable way can only be a good thing.
To find out more about how to understand your workspace usage patterns and trends, download our full Workspace Reporting Guide - How to unlock the data secrets and value of your workspace

.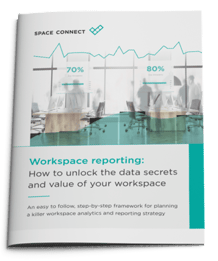 Regardless of which tech you use, this 16-page guide will show you, step-by-step:


How to identify the right questions to ask of your workspace data

Exactly which variables and metrics to use, to get the answers you need

What the answers actually mean for your workspace and business plann

ing

Discover more about how Space Connect workspace reporting can help you drill down into your space usage and occupancy data to reveal the hidden restacking opportunities in your workspaces: Book a demo here.


Image credits:

https://unsplash.com/@mparzuchowski

https://unsplash.com/@austindistel

https://unsplash.com/@heftiba