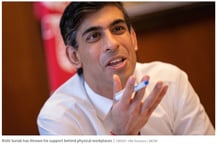 Speaking to the Daily Telegraph this week, Rishi Sunak urged companies to get their employees back in the office as soon as lockdown ends, highlighting that physical workplaces foster "spontaneity", "team-building" and a culture of "meetings that happen by chance".
Workers must be allowed to return to the office or they may "vote with their feet" and quit, the Chancellor warned.
While the reality is likely to be more complex than this, the demand for a workplace return is compelling for all involved.
74% want to get back
A recent global study by JLL (2020) revealed that, while people's expectations of how and where they physically work have changed over the last year, the need to be back in the workplace is very real.
74% of employees surveyed said they were seeking a return to the workplace.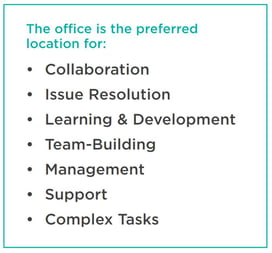 And all those advantages highlighted by Sunak of having teams together in the same physical space, mean employers are anxious to enable workplace return to happen, as soon as is possible and realistic.
A hybrid working-week experience
In another survey, Slack found that 72% of employees want a 'hybrid' agreement involving both remote and in-office work, going forward.
Flexibility is going to be the name of the game.
Working from home, hot desking, and home/office working-time splits are all likely to be baked into the return-to-the-workplace model for many if not most previously office-based workers - all with the focus on employee wellbeing.
Managing anxiety around workplace return
More stats: A recent survey by AVIVA (2020) found that UK workers reported risk of infection (32%) and social distancing (22%) as their top two concerns with returning to the workplace.
It's clear that alongside the need and want to get back to the office, there are some natural 're-entry anxieties'
Further research from O.C. Tanner (2020) reported that implementation of a sound and well communicated COVID-19 strategy helped to reduce workplace-related anxiety levels by 37%.
So what are the key factors in a practical, easily-managed social distancing plan for workplace re-opening? Here we explore them, and how tech can play a crucial role.
5 key tactics for your workspace social distancing plan
Make sure your workspace manager has a real-time view of occupied desks
Enable managers to flag desks as unavailable, based on real-time occupancy and social distancing requirements
Ensure alerts are sent to facilities and users when the floor capacity limit has been reached
Require and enable workplace visitors to agree to terms & conditions upon arrival, including critical social distancing information
Report on adherence to social distancing, and communicate your success to your teams
Where desk booking tech comes in
The right choice of desk booking tech will enable your workspace managers to deliver on each of these 5 key tactics, encourage employee confidence and reduce re-entry anxiety.
Contactless workspace check-in
Understanding which desks and meeting spaces are currently occupied, and which can be occupied while maintaining distancing requirements, relies on workspace check-in.
And in 2021 it's going to be all about contactless check-in.
Look for these capabilities when planning for your tech solution to allow flexible, contactless workspace check-ins:

1. QR Codes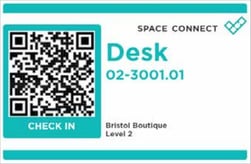 Placed on desks, outside meeting rooms, or at reception to enable booking, check-in, and check-out using a mobile device
2. Docking Stations
A windows client application installed onto a user's device that detects a docking station connection and automatically checks them in upon docking
3. Presence-Detection Sensors
Placed under a desk or in the ceiling to enable the automatic detection of user Smart Sensors (RFID Card / Smartphone Tap)
4. Facial Recognition
Ideal for visitor management, where users can automatically check-in previous visitors through facial recognition technology
5. Manual Check-In
A low-cost and rapid deployment approach enabling manual check-in via a mobile app or web booking tool
6. Smartphone check-in and out (or using an RFID card) through Bluetooth-detection or a card reader
Meetings and meeting room tactics
The hybrid, remote-and-face-to-face approach is likely to apply as much to meetings as to desk working spaces, going forward.
Again, technology can help to enable this, while boosting employee confidence through social distancing.
Focus on these 3 key tactics when planning your meeting room management tech solution and approach:
1. Controlling meeting room Capacity
Enable your workspace managers to dynamically change room capacity, as required for social distancing requirements
2. Encouraging online meetings as default
Empower your managers to formalise the meeting room booking process whereby meetings are created online - as default - to encourage remote connectivity
3. Automating your video conferencing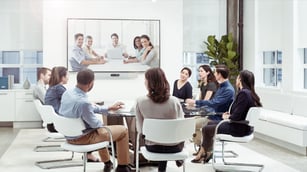 Put an end to manually trying to launch and connect from a meeting room to remote attendees. Switch up your video-conferences so they can be automatically initiated when the organiser is detected, through presence-detection (with Poly Trio devices or via a mobile app).
Get more advice on Covid-secure workplace reopening, here.
Research references:
https://www.jll.co.uk/en/trends-and-insights/research/global-workforce-expectations-shifting-due-to-covid-19
https://slack.com/intl/en-gb/blog/collaboration/workplace-transformation-in-the-wake-of-covid-19
https://www.aviva.com/newsroom/news-releases/2020/08/british-employees-feel-positive-about-returning-to-work-but-businesses-have-work-to-do-to-make-workplaces-safe
https://www.octanner.com/uk/
See more desk booking advice and guidance on our desk bookings systems blog.