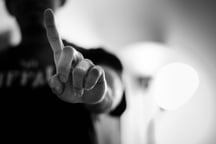 Getting back into the workplace is all about face-to-face contact:
Contact with colleagues, teams, managers, new starters, old friends, business partners… the list of the people we've all missed goes on.
Because face-to-face contact – in the real-world and not via a webcam – engenders so many positive outcomes: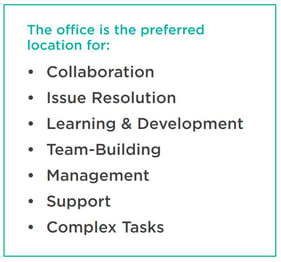 Surfaces – not people
As workspace managers begin to gear up for enabling that all important real-world contact when workplaces reopen, there is at the same time a drive to enable contactless experiences.
The difference is, here we are talking about contact with surfaces – not with people.
Workspace optimisation tech can now enable a range of no-touch or low-touch physical interactions as both employees and visitors flow through a workplace – from reception, to meeting room to desk.
And by doing so, workspace managers can continue to nurture employee and visitor trust and confidence in the Covid-security of being back in their workplace.
Here are some of the ways this can happen
Touch-free desk check-in a

nd

check-out
Workspace tech can support a range of desk check-in methods to allow passive check-in/out as the user 'docks', so reducing the need to touch surfaces.
QR code

RFID card
Universal computer docking stations

Smartphone app

Presence detection sensor hardware


The options in more detail...
QR Codes
Placed on desks enable booking, check-in, and check-out using a mobile device
Docking Stations
Windows client application installed onto a user's device detects a docking station connection and automatically checks them in upon docking
Presence-Detection Sensors
Placed under a desk or in the ceiling to enable the automatic detection of user Smart Sensors
RFID Card / Smartphone Tap
Check-in and out using a smartphone or an RFID card through Bluetooth-detection or a card reader
Manual Check-In
A low-cost and rapid deployment approach enabling manual check-in via our mobile app or web booking tool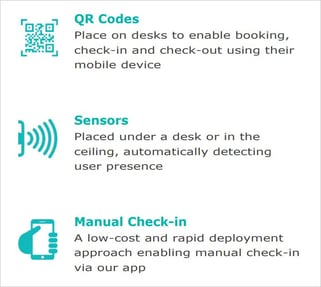 Touch-free meeting management
Just like desk check-in management, meeting spaces can be accessed and administered using contactless tech.
In the no-touch meeting experience, when you arrive at a meeting you are automatically checked in. When you leave, you are checked out, thus reducing contact transfer and increasing hygiene adherence.
Sensors placed in the room automatically detect your presence as you arrive and leave, recording key utilisation data metrics.
Automated check-in and check-out...
Space Connect for example, solves equipment contact problems for both the organisation and the employee. As people enter meeting rooms, Space Connect automatically identifies who has arrived; checks them in; and displays any presentations on the AV screen, along with their device.
Our Meeting Room Management module can also initiate any VC services and automatically enable note-taking systems (e.g., OneNote) to manage meeting minutes and actions.
No-touch Video Conferencing Automation

Presence-detection Sensors placed in the room or connected to the Trio device automatically detect the presence of the organiser in the room.
Video-conference initiation
When the organiser is detected in the room, Space Connect automatically initiates the conference call and starts the Trio device.
Initiate from your mobile
Organisers also have the ability to manually initiate the conference call using the mobile app. If they are present in the room, the Trio device will also automatically start the conference. And this is all without the need to connect them to any cables or manually do anything.
Visitors
Contactless visitor sign-in
In a recent blog Matt Maklan explores in some detail the way visitor access management expectations have been transformed over the last 12 months.
Much of this transformation is around a no-touch visitor sign in experience. Old-skool paper sign in books and tablet screen sign-ins are history.
Now when visitors arrive, technology can radically reduce the need for equipment contact by detecting their presence and enabling contactless sign-in and sign-out using QR codes and voice / facial recognition.
Space Connect for example can recognise a familiar face using built-in facial recognition and machine learning technology, by scanning your visitor's and/or contractor's photo in real-time and match their identity.