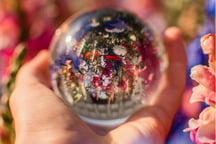 Space Connect's Matt Pope and Matt Makan claim no access to a crystal ball!
But their candid discussion around the future of the workspace, post lockdown restrictions, post-Covid, and beyond, shows there are decisions workspace managers need to be thinking about right now, to be future-proofed.
Here are some highlights of the insights they shared. Click Play to watch the short video in full.



Flexibility requirements of workspace solutions for future-proofing
"Organisations will start to think about both the short and long term solutions they require, and to look for flexibility" says Matt Pope.
Technology that enables workspace managers to plan for now, for post-Covid, and beyond needs to enable that level of flexibility.
Easily configurable
Easily re-configurable, as an organisation's demands chnage
Easily scalable - both up and down
Highly flexible terms and pricing models
A post-Covid return to workspace optimisation
"Key to this will be producing data-driven strategies for how a workplace will look now and in the future" says Matt Makan.
Understanding how workspaces are actually used

How long workspaces are used for

Which kind of space is likely to be in greater demand

How spaces can reflect the changing, current and future demands of a workforce
Image creditshttps://unsplash.com/@imkrisztian