This blog aims to provide practical advice specifically for IT managers who are looking to implement a workspace management and optimisation solution, now or in the future.

Talking points:
1. Speed of deployment
2. Standardisation
3. Security
4. Maintenance
5. Data analytics
Speed of Deployment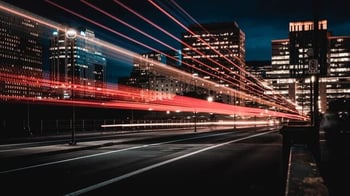 For workplace management solutions, speed of deployment has become more and more important, for a variety of reasons.
Firstly, the ever-changing COVID-19 situation continues to make it very difficult for organisations to construct long-term workspace usage plans.
Government guidelines on Covid-secure workplace arrangements alter quickly and often with short or little notice. So what does this mean for IT managers looking now for new workspace solution?
IT leaders and their teams have been, and remain at the centre of the needs of organisations to act and react with speed to changes in workplace requirements and restrictions.
What's more, with any workspace solution contract you sign-up to, there is always the challenge of how long it will take to set up, deploy and be available to use.
Takeaways
The key takeaway for IT managers is to either start your project with plenty of buffer time built in for deployment timeline challenges.
Or choose a solution that can go live right away – same-day or in just a few days max.
We're fortunate at Space Connect that our platform enables users to go live in under a week, regardless of complexity and size, and in many cases, go-live is same day.
Standardisation
Standardisation is the process of creating a more uniform, consistent IT environment by limiting the number of systems, devices, applications, services and configurations.
And it's key to streamlining IT operations and reducing security risks.
Space Connect standardises meeting space and meeting scheduling because it integrates seamlessly with Microsoft exchange and Google workplace.
Single source of truth (SSOT) ensures that everyone in an organization bases business decisions on the same data.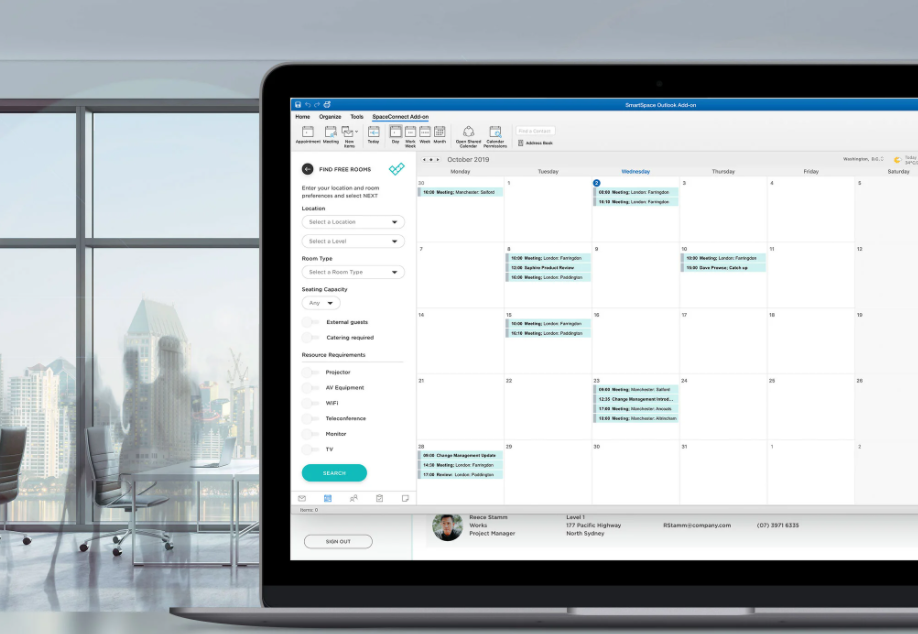 In Space Connect, whether the user creates a meeting in outlook or via our mobile app, the data will be reflected in both, in real time.
Standardisation doesn't mean forcing people to conform to new working habits or to use new devices.
Space Connect is a device agnostic solution: Whether a user is using our progressive web app, native mobile app or our outlook extension, they will benefit from the same feature rich, and easy-to-use experience.
The good news for IT management is that in Space Connect, all instances are managed and monitored from a single pane of glass.
Single sign-on
SSO (Single Sign-On) allows users to use a single email and password across multiple platforms. SSO is highly beneficial for any IT department because of the increased levels of automation, security and better workflows.
IT teams are also spared having to manually build integrations because SSO has pre-built connectors to tens of thousands of applications. It also guarantees an easier log-in process for users, who do not need endless usernames and passwords for multiple systems!
If you are an SME, with a limited IT department, standardisation is also an important method for security.
Security
Space Connect benefits from being built in Microsoft Azure stack. This network provides a secure storage area for your data, with more than 90 compliance certificates including SOC2 compliant – providing an excellent security system as a result.
The overall accuracy, completeness, and consistency of data – data integrity, is achieved with strict processes. This safety of data allows companies to comply with GDPR and security standards.
Maintenance
Ease of maintenance is one of the most important considerations when deciding which type of workplace system to use.
A flexible solution which puts you in control, without the need for a 3rd party project manager is paramount.
A solution that can allow quick and easy changes to the system configuration, without the need for IT or third party involvement, will be the most successful at meeting that organsiation's needs.
The Space Connect system offers administrators and its users huge amounts of flexibility.
This flexibility is exemplified by the ability of Space Connect admins to add or remove desks with just a few clicks. Admin have the ability to make their own edits and additions to the system, which results in real-time front-end changes for the solution.
Space Connect can be maintained by any number of admins such as IT managers, office managers, receptionists. Admins do not require 365 admin privileges. This admin accessibility always reduces workload for the IT team.
Data analytics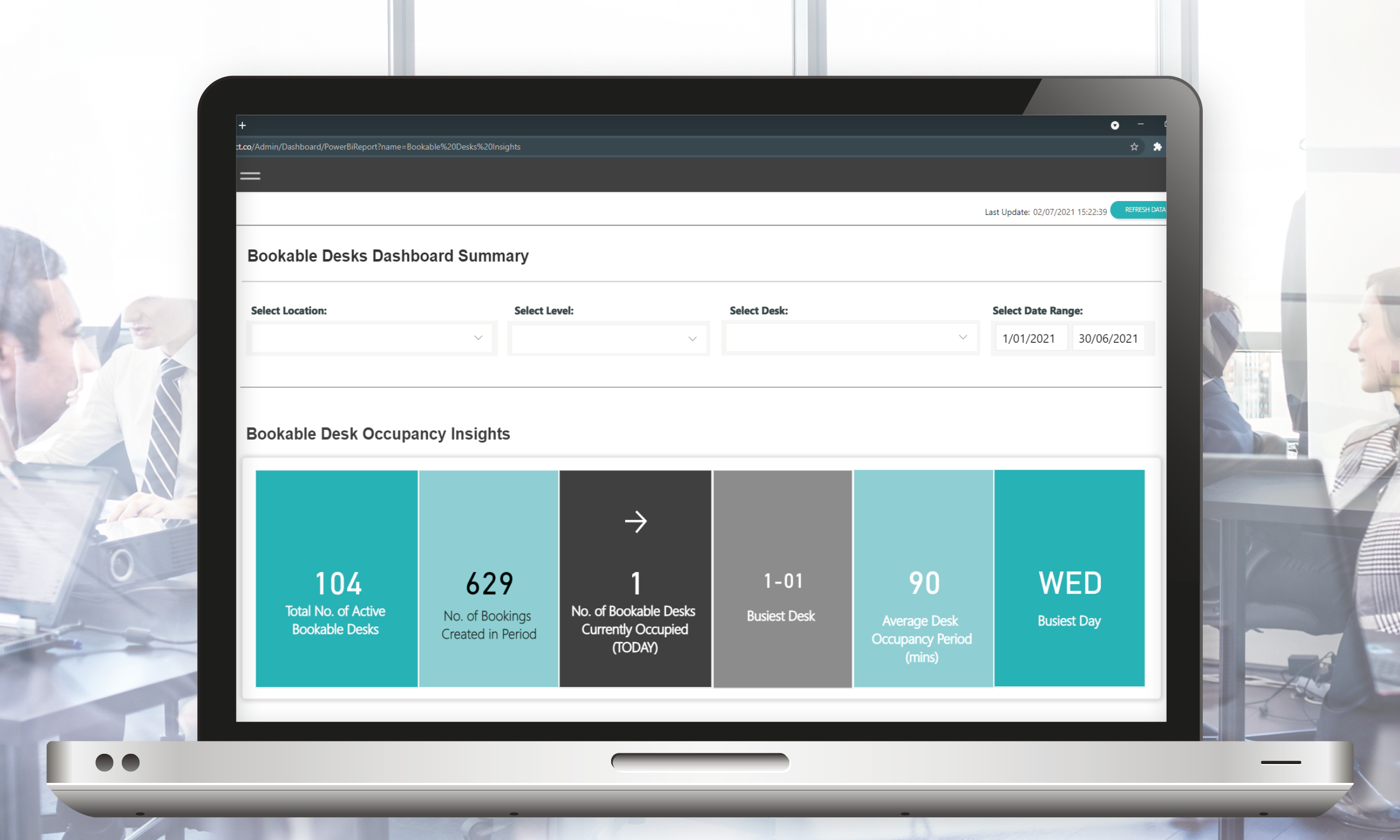 Almost everything in the Space Connect tool is reportable.
In-built Microsoft Power BI dashboards mean your admin users don't need their own Power BI licence to access data rich insights.
The pre-built contact tracing and space utilisation reports saves time for organisations and makes decision making easier.
Say no to manual spreadsheets saved to employees local drives!
IT leaders are often accused of being reactionary, and behind employee needs. Now's the time to change perceptions. Space management provides IT leaders a chance to help longer-term strategic outcomes for businesses.
Recognising there are often two big costs that most businesses have in common.
Its people
Its real estate.
Can you say today with absolute certainty how your space is (or isn't) being used? In parts of London, we've seen office space cost businesses as much as £20,000 per workstation.
Couple that with offices generally running at 60% capacity (metrikus index) - how much money could you save your business in the long-term?
Image credits:
https://unsplash.com/@marcojodoin
https://unsplash.com/@wocintechchat