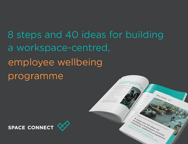 The talent recruitment market is red-hot right now.
Which is great for job candidates. But for many businesses it means recruitment and retention is a struggle.

Prioritising employee wellbeing is really crucial for winning and keeping talent.
So we've produced a practical new guide for Facilities, Property and HR Managers & leaders, catchily titled:

8 steps and 40 ideas for building a workspace-centred, employee wellbeing programme.
Step by step, this 12-page practical guide:
Breaks down the key elements of an effecting wellbeing programme
Explains how to manage workspace, to nurture wellbeing
Explores ways to nurture employee's mental and social needs at work

PLUS...
The Guide reveal the 8 crucial steps, AND 40+ success factors you need to know, to make it all work.
You can download this free guide right here, for stacks of practical office re-opening advice.